Audacity Setup: Not satisfied with the results of your audio edit? Looking for better quality audio to mesmerize listeners with its fantastic quality?
Audacity Projects is here to help you achieve the goal of creating amazing audio without hindrances. The settings of Audio Projects shall ensure that you can create and edit wonderful audio and create superb music.
Let us have a look at some of the settings to know more!
How to setup Audacity
If you are eager to learn as to how you can work with the settings, to give the final touch to your audio, have a quick read below:
Firstly, you must focus on setting your Audacity preferences. You will be able to find various options in the dialog box. You must be clear of your priority and choose the option accordingly. Dedicate sufficient time to explore each of the options before you make a choice.
You can also change the settings with Audacity's toolbars and menus. You can choose the Device toolbar, Selection toolbar, or Transport menu to perform the changes to your audio.
If you want to change the playback devices, recording host and devices or changes in channels, you can choose the Device toolbar.
If you wish to change the Project rate or units of selection formats, use the Selection Toolbar. Moreover, in case you wish to have control over the Overdub or Software Play through, choose the Transport menu.
If you have to choose between accessing these options or the options in the dialog box, you must go for these options. These options are quicker and better. You can simply access these options without any complications.
These options facilitate the proper and smooth editing of the audio. With the usage of these options, one can easily edit and get fantastic results after the edit.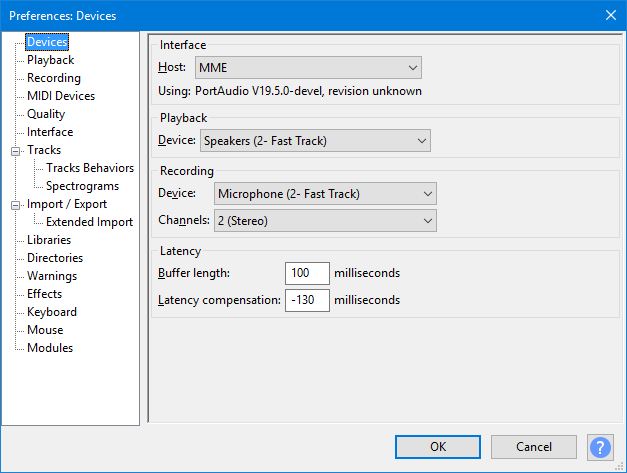 Do not forget to connect your equipment!
While you venture into editing your audio, never forget to connect your device to the equipment. It is imperative to the process of editing the audio. One can easily do the same with the help of various tutorials available. You can easily use Copy tapes or discs or Minidiscs or LPs or tape-decks on your computers to perform the task of editing. Establishing a connection with the equipment is important to ensure proper and smooth delivery of audio. Click here to learn more.
The Settings
Audacity Projects comprises fabulous settings, which shall ensure delivery of perfect audios. If you use Audacity Projects, you can work on large tracks in various ways. If you wish to extract a piece from the track, you can simply perform these simple steps to produce top-notch audio. These settings shall serve as the basis for producing high-quality audio devoid of various hindrances such as unwanted noise or disturbing sounds.
Therefore, if you are an ardent musician or a sound engineer, you must use these fabulous audio settings by Audacity Projects. You cannot afford to create audio without these changes.
Configure the equipment, work on all the settings, and have a fabulous time exploring the various editing options provided by Audacity projects.
Read more articles