Audio Tracks at Audacity: An audio track is that part of a song or of an instrumental piece that has been recorded separately and then added to a tune. The singers and musicians can record the audio sitting anywhere. And later, the tune can be added in. This advancement of technology has made it possible for various musicians to cope with the demands of composing the tracks and tuning them accordingly.
The basic concept of an audio track
These tracks can be recorded into different clips and then edited to make a proper song. What it takes is a set of clips that needs to be edited with proper tuning.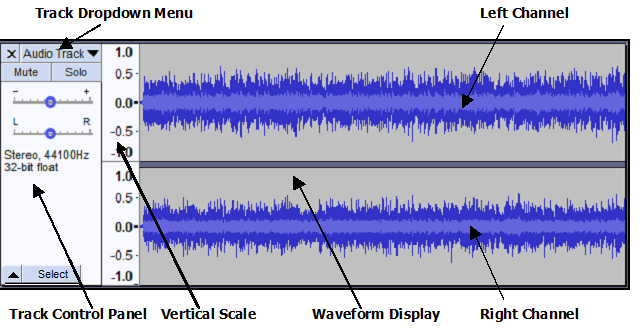 How are stereo tracks different from mono tracks?
The major point of difference between mono tracks and stereo tracks is the number of audio channels used in both. A sound is a signal, which is sent out and then transported by the means of a channel. The output of this sound is received through headphones or speakers.
Stereo audio tracks
In the case of stereo audio tracks, many channels are required for transportation of audio signals to a listener's ears by the means of a speaker or a pair of headphones. Basically, stereo uses 2, or more, channels. In the most basic sound setup, the 2 tracks channels are transported to 2 different speakers or earphones in order to enhance your sound experience.
Therefore, stereo is used for building up the impression of audio that is coming from various directions and channels. The setting of sound is done in such a manner that the listener is comfortable. This sound is very useful for movies and plays to grab the attention of the listener completely into the act.
Headphone users are very aware of stereo sounds. By removing one piece of earphone, one can reveal that the sound is particularly transported to your right or left ear.
Mono audio track Sounds
Mono track is also called a single audio track. These tracks have the same components that of a stereo track. However, here, it is the only single source for the audio. Mono sounds can be transmitted to a number of speakers but the signal being played remains to be the same.
In the case of a mono track, the sound is obtained from a single source, but it is transported to 2 different speakers. Still, the content of the audio remains the same here. You will not notice any change when you remove one earphone. The sound delivery in both earphones remains equal. So, one cannot play with a sound piece here as you will not experience any extra effects in music here. Click here to learn more.
Conclusion
Thus, a stereo track provides you with extra effects that are added to your music. You can amplify the music as per your choice. In stereo, the listener listens to 2 or more tracks at the same time. If you just pull out one earphone, you can see the difference. This feature is missing in mono audio because it transports a single track and splits the sound equally into two.
Read more articles.